There comes another New Year and people try to give each other something significant, a symbol of the year in any form. It is clear that children make gifts with their own hands – it's always nice and nice. However, there are crafts that will not only make an adult! Therefore, if something is so complicated, it will work out well and it will certainly work, especially for a good master class, then it will not be a shame to present a paper figure. On the contrary, hand-made works are very much appreciated. And if you're just a beginner in the technique of origami, detailed MK with photos will still be very clear! Modular origami cock – it will perfectly emphasize the brightness of the interior or, conversely, bring a good disorganization into a room with a restrained style. Video tutorials at the end of the article.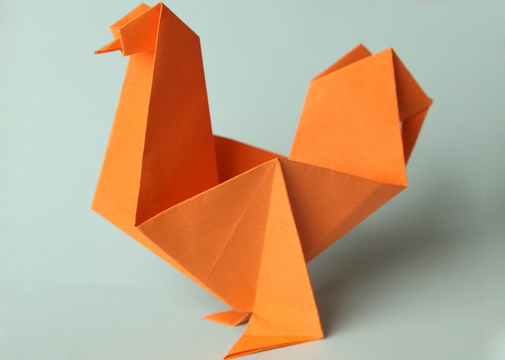 Video: Stacking the classic cockerel
Master-class on assembling a modular cock
Materials
In this form of creativity, you do not need templates – first of all, you need to look at the instructions all the time , preferably with a photo. Especially if you do this kind of work for the first time, like a beginner. Recommendations are not so much: paper can be, in principle, any, but it is best dense, like office for printing or denser. Clay ? Of course, it's useful! And, since we are making an "origami" cock, the purchased eyes will not interfere. But even without them, too, we will cope.
Making the module
Naturally, in order for a whole cock of origami paper to be made, one must first understand how individual parts are made. Here, according to this scheme and without a description, it is quite understandable even for a beginner:
To connect the elements together, glue is not needed: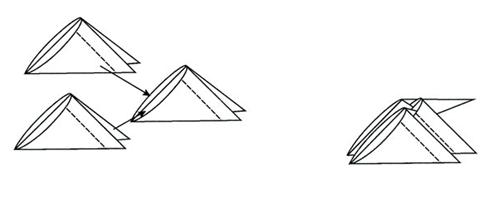 There are other connection options. But so far this is enough.
Building a Cockerel
We proceed to the step-by-step master class "How to make a cock". At the end of the work, you should get a fiery cock. The assembly scheme for rows. Body. 1 row (P) add up from 12 hours (black) and 8 (yellow). Up to 5 P decrease by 1 yellow and increase by 1 black. 6 and 7 Р – reverse increase and decrease of colors.
In 8 P instead of the last yellow on the sides we set dark brown. Now we will not do a full circle: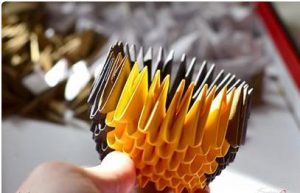 9r .: for 5 hours, and in the middle of 6 and at the sides along the brown part. 10 and 11 P differ only by 1 g (5 and 6, respectively, 11 more), the others are the same: 1 op (orange) and 1 k (brown), 4 h.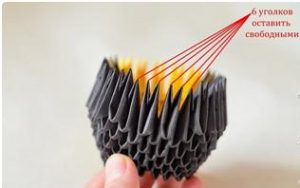 At 12 and 13 P, the same ratio, only 1 or more and 1 hour less. 14 Р: 5 ж, around 2 op, 1 к and 2 hours around.
Wings. 15 Р: 2 ор, 1 к, 2 ч. 16 and 17 – the same, only for 1 ч 18 and 19 – without black. 20 and 21 – only orange, and the last two rows – 1 op. This is only on the one hand, do not forget about the second! Tum. 15-20 P: alternating between 6 and 5 ж. From 21 to 24 for a decrease, in the last row there should be 1 g.
Finish the wings: for each of the orange modules, put on for 1 hour. At this stage, you should paste the whole body and wait until it dries.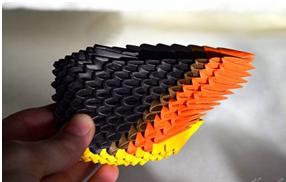 On the back, make two rows of 6 and 5 h modules, respectively. Then the tail will begin from here.
Neck. 1-4 Р: start with 5 ж and increase by 1 in each. From 5 to 11 Р we add 1 ж, and on the sides we add: first for 1 hour, then with each row +1 hours. From 12 to 19: from 8 hours, reduce by 1. Ready neck to bend and glue. Fold the neck into the tube and hold in your hands until it dries:
To decorate the head of the cockerel, assemble the module twice as large. The beak, on the other hand, is 2 times smaller. Scallop and beard – the standard size. Simply glue them.
After the entire assembly step-by-step instructions for the feet are no longer needed, you can and improvise yourself.
If you have already understood how to make a cock "origami", then the tail is the easiest part. From the color modules you fold the curved strips, which at the end are glued together and attached to the body. Glazik – fantasy. Of paper or plastic, even a bead will come down.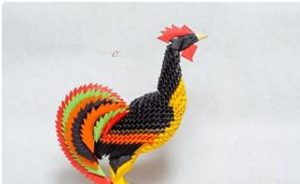 Photo examples of modular males
Another idea of ​​a paper cockerel. Paws can be made easier: from tubes.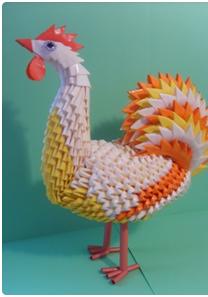 The rooster for Easter is made in the form of a stand under the eggs. A beard with a comb is not made of modules, but simply of paper:
A whole cock's family, if you accelerate, you can create by hand! And then play with the children in a fairy tale with these characters.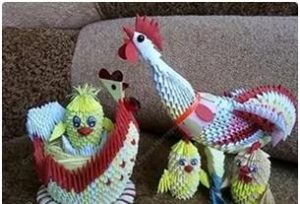 Video lessons of making cockerel origami
For Easter or for the New Year, as a gift or for yourself – such work will become a good decoration and a pleasant gift. If in a kindergarten or in a school the child will have to make some odd job, even for a contest, you can easily take the prize place, because such a product, executed carefully and with accuracy, looks very impressive and beautiful! Nevertheless, this creativity is also available to children, under the guidance of adults. Step by step is told how to make a rooster, on video.