Different in shape, color and size of snowflakes from beads, of course, will be a magnificent decoration for the New Year's fur-tree or carnival costume. Without these little beauties, it is difficult to imagine this New Year, because they help us to plunge into the atmosphere of the holiday and make the New Year's Eve a magical fairy tale.
New Year's articles from beads delight with their elegance and uniqueness.
Bright snowflake with your own hands
Before you start a master class that tells you how it's easy and quick to create snowflakes from beads with your own hands, let's first prepare everything necessary for work:
Wire;
Several species of bugles;
Beads;
Beads.
Today we will make a bright red snowflake with pointed beams.
Take a small piece of wire (about 50 cm) and, bending it in half, string on it beads, beads and bugles. Then draw a working "thread" (wire) through the central bead:
After that carefully tighten the resulting loop:
Type the same beads on the empty end of the working thread, as on the full:
Then, on the one hand, add a couple of beads:
Now we can form the first "petal". For this we need to pass one of the ends of the working "thread" into the bugle and tighten the loop:
Further, without changing the scheme of actions, we will have to weave the basis for a future snowflake consisting of 7 "petals":
Having finished the beadwork, we will have to twist and hide one of the tips of the wire:
Now our master class will tell you how to make "rays". For their creation, we need about 70 cm of wire. One of the ends of which we tie to the tip of the working "thread" sticking out of the base, and the other – we draw through the bead:
Then we string the beads, as shown in the photo and conduct a working "thread" through the first bead. Adding the missing beads, we will stretch the wire through the bead on the basis of: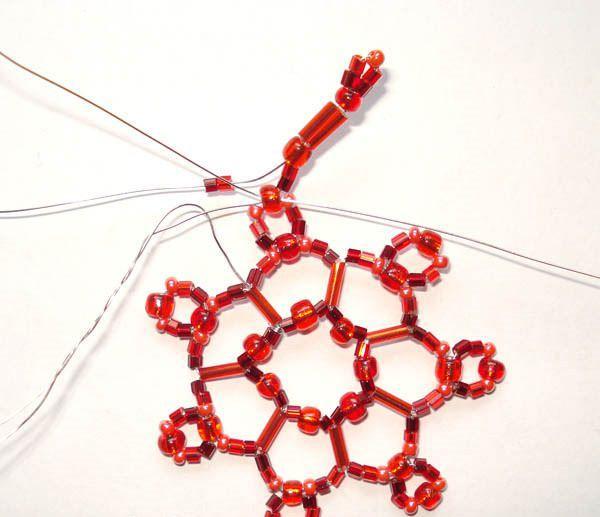 A small ray is ready now we must make a big ray: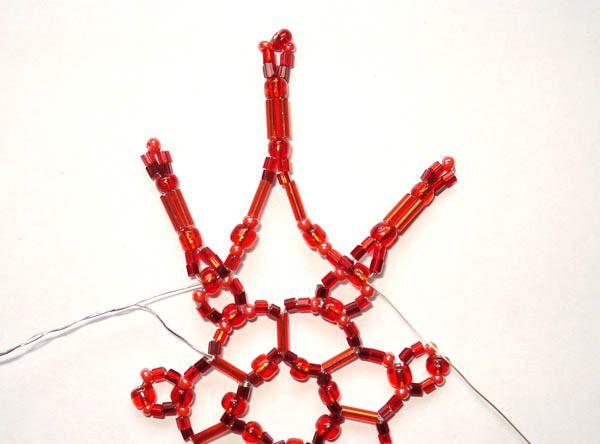 Using this method of weaving, we will eventually be able to create such a magnificent beauty: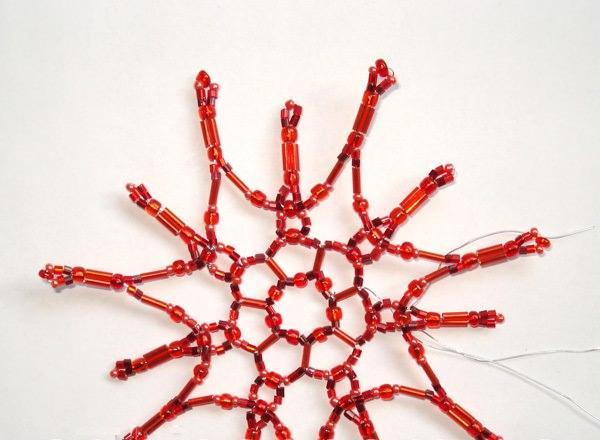 If you want to make your snowflake more elegant, you can weave an additional decoration for it, which will be located between the "beams" and the base. To create it, you need one more piece of wire. On it you will put on beads, and then you will conduct the basics through 7 upper beads: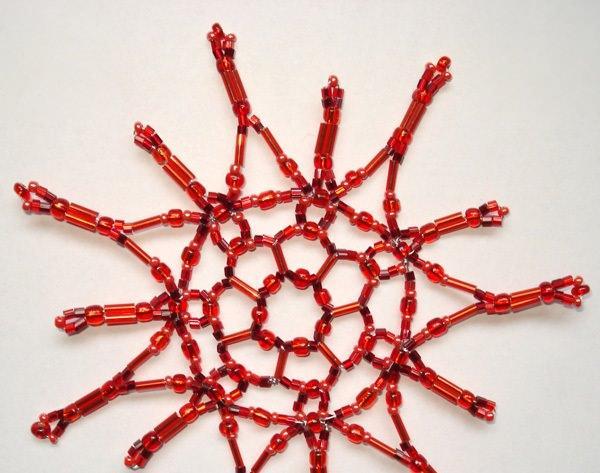 At this stage, our small master class can be considered complete. You just need to cut off excess wire and hide its tips.
Master class on weaving of a hexagonal snowflake
Each snowflake from beads can become not only a beautiful Christmas tree decoration, but also a wonderful gift for guests who celebrated in your company a wonderful New Year's Eve. Therefore, we will hold a small master class with you, which will help you to learn how to create these original snowflake souvenirs, and training video lessons will help you to consolidate the material you have covered.
First, prepare all the materials you need:
silver wire (0.4 mm);
fibrous white bugles (8 and 5 mm);
large translucent or white beads.
Having prepared everything we need, we can start beadwork:
Cut a piece of wire (32 cm) and, threading on it 4 pcs. Bugles form directly in the center here is a diamond: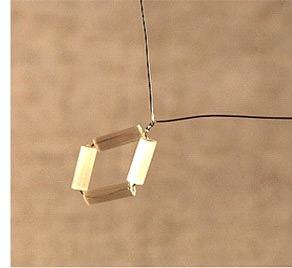 Then you will need to put 2 pieces of wire on both ends of the wire. bugle and bend the wire so that it is between these two beads:
After that, for each tip of the wire you will need to string another bugle and, returning back to fix it at the base. Then you will have to draw the wire through the bugle so that you have the following rhombus:
Now you will need to make another diamond, but from a smaller bugle.
Then on each of the tips of the wire you will have to string 1 piece of glass bead and, braiding it to fix the wire at the base:
Having done this, you will have to scroll the wire and put a glass bead on it. After that you will need to return the wire back to the base and, cutting off the extra tips, fix it well.
In total, such diamond-shaped beams with "tails" you will need 6 pcs. After you have them we can say that at this stage the beadwork is completed. You will only have to collect a snowflake and decorate it with beads.
First you will need to connect two parts and roll the wire about 1-1.5 cm.
Then you will need to put 3 large beads on the wire and, securing it to cut off excess ends.
Using this scheme of weaving, you can quickly weave this diamond-shaped beauty:
On this our small master class on creating a winter snowflake from rhombuses and "tails" can be considered complete. If you want to further decorate the snowflake, you can do it with beads. The photo shows that we have added 7 more big beads to the center of our New Year's decoration, in order to make it more spacious and beautiful.
Different schemes of weaving winter snowflakes
If you have already mastered the bead work and are a professional in this field, then you can definitely try to create an unusual and bright snowflake, without being guided by any schemes. However, beginner needlewomen still better to weave snowflakes from beads strictly according to the schemes.
Let's look at the most popular schemes that will allow you to create a beautiful decoration for your Christmas tree.
For beginners, snow beads from beads are best to choose pentahedral, since they are simple and with due diligence they can make even a child.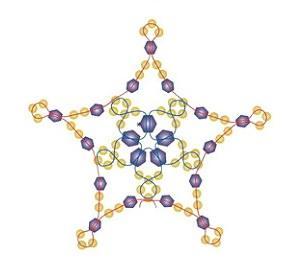 At first glance these snowflakes seem very similar, but in fact, their schemes differ from each other. And having shown a little imagination, you can even completely weave different snowflakes even according to one scheme.
The next snowflake from beads for beginners will also be quite possible. However, to create it you will need to apply a little more effort.
Having mastered the basics of the weaving, you can start to make more complex snowflakes. For example, like this hexagonal openwork beauty: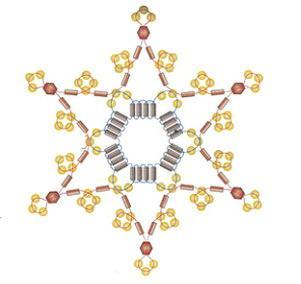 To learn how to weave such wonderful hexagonal snowflakes, you can watch the video clips presented in our article.
In addition, according to a similar scheme, you can make air hexagonal snowflakes: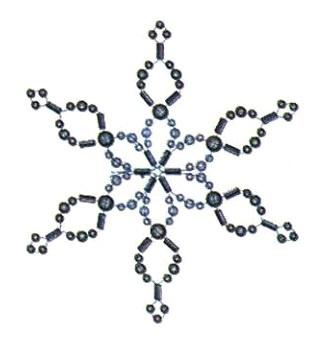 There are also multifaceted more intricate snowflakes. In order to learn how to do them, you can see the following schemes:
Or carefully review the video, with which you can learn how to create multi-faceted snowflakes.
And the last group – massive hexahedral snowflakes. In order to do them you must first practice with something more simple and understandable.
Beautiful air decorations can be made not only with glass beads and beads, but also beads of different sizes. The main thing is that during the weaving you adhere to the scheme.
In order to learn how to properly weave beautiful snowflakes or find yourself some new scheme of weaving, we recommend you to watch video clips.
It is worth noting that the video lessons will be interesting not only for professionals who have decided to create a multi-faceted snowflake, but also for beginners, who are trying their hand at such hard work of needlework as beadwork for the first time. Study different schemes of weaving and you can independently make New Year beauties of beads and beads.
In conclusion, I would like to note that all the snowflakes from beads, as well as their natural prototypes, are stunningly beautiful and original creations. With the help of incredible intertwining of beads, beads and bugles, people create truly beautiful, unique and fabulous ornaments for Christmas trees that help to plunge into the unforgettable atmosphere of the holiday and remind us of a carefree childhood.
Video: Snowflake from beads
You'll also like: